Thriving SEO company takes flight under Gen Z CEO
An inspiring story of a young CEO who confronted challenges and created his own company now generating employment and has served respected global brands. By Joey Brillantes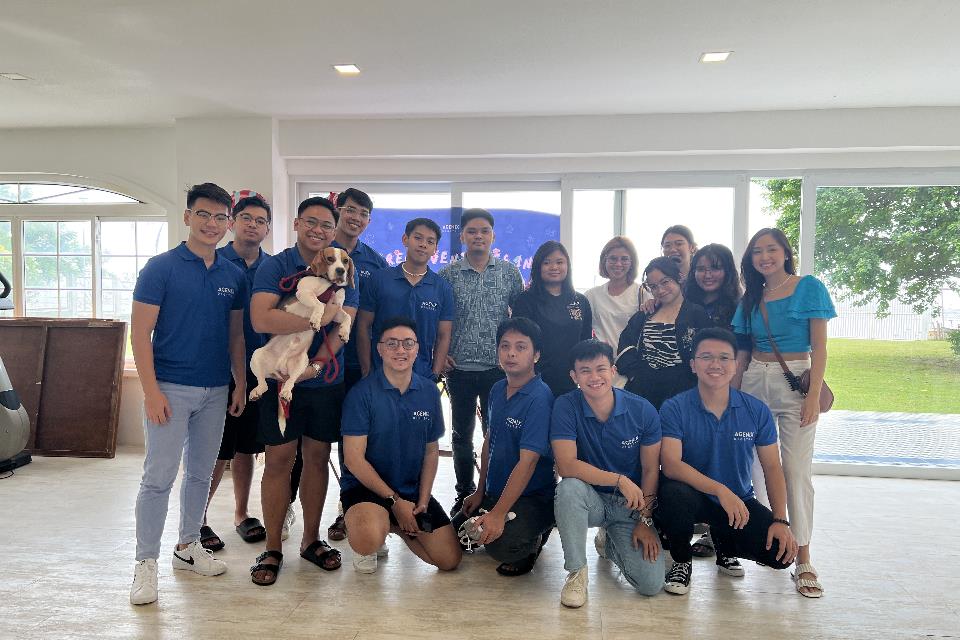 AGENIX Digital CEO Clarry Herrera (with Choco the Beagle) and his young team
In 2020, Clarry Herrera was a low-paid, entry-level employee in a search engine optimization (SEO) agency scrounging for freelance work on the side to supplement his salary. Having been familiar with cryptocurrency since 2017, he applied for a marketing position at a cryptocurrency trading platform and was immediately hired.
His task, at the beginning, was easy: to hit a quota—and in order to do so, he needed to invite new "investors" to the trading platform. He first tried investing in the platform himself and when everything seemed to be legitimate, he gained more confidence and brought his friends on board to the point of shouldering the investment deposits of his buddies who couldn't produce money at the time—eventually putting in a total of P400,000.
Then things went south after four months. Their accounts were locked out from the trading platform. Herrera was told he needed to pay for unlocking fees. Realizing it was his sole responsibility and wanting to resolve the problem immediately, Herrera decided to pay for his and his friends' unlocking fees; he still wasn't able to retrieve their accounts after sending the payments. His contact could no longer be reached.
It was only then he realized he was a victim of a crypto Ponzi scheme. [The Ponzi scheme was first popularized in 1920 and was named after the swindler Charles Ponzi. The scheme refers to a fake investment program that promises high returns to investors. Such programs tend to appear legitimate and secure as they use the money coming from new investors to pay early investors. For this scheme to work, a constant cash flow needs to be maintained. Once the scammers fail to snag new recruits into their program, or when the investors choose to withdraw their money altogether, the scheme comes to a crashing end.]
Herrera hit rock bottom. His mother took out a loan on his behalf to help him pay for his investors' losses. In order to pay off his loan obligations, the young man worked on as many side hustles and freelance gigs as physically and mentally possible. But it still wasn't enough.
Out of desperation, he decided to make a leap into entrepreneurship and founded his own company, AGENIX Digital, a growth marketing agency specializing in data-driven SEO and content marketing campaigns, and registered it under a holding company, Herrera Ventures, Inc.
According to Herrera, "The Philippines has a great potential in producing SEO experts," said the young CEO. "The country's SEO professionals are being utilized by several foreign companies today mainly because of our competitiveness in terms of technical skill and pricing."
He added: "While the industry offers plenty of opportunities, there's still a big gap that needs to be addressed in the country, especially in terms of skills. The IT courses in the Philippines, for example, aren't at par with the highest quality of SEO courses in the world, and this area needs to be improved for our industry to continuously grow."
Under the 24-year-old's leadership, AGENIX Digital continues to provide value to businesses through its specialized technical services. Starting with only one freelancer onboard, the company now has a roster of 27 employees with high skill levels that match client requirements.
To date, the agency has done work for Decode Global, OwnagePranks, Southwestern University, Asian Institute of Management, to mention a few clients. In particular, AGENIX DIGITAL helped OwnagePranks, a popular YouTube account with 5.4-million subscribers, improve the download rate of their app by 300 percent after a six-month SEO campaign. OwnagePranks steadily improved its SEO ranking for two years, thanks to AGENIX Digital's experts.
Herrera envisions AGENIX Digital to be one of the best SEO agencies in the country and plans on hitting more than one million dollars in annual revenue by the end of 2023.
SOURCE: https://businessmirror.com.ph/2022/12/13/thriving-seo-company-takes-flight-under-gen-z-ceo/